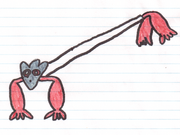 Sailnoh is a Grass/Poison Pokémon. It evolves into
Casbashira
at Level 16, which evolves into
Brefmor
at Level 32.
Pokédex #001
Weak Pokémon
Abilities
Edit
Overgrow
Gender Ratio
Edit
50% Male/50% Female
Catch Rate
Edit
45
Egg Groups
Edit
Grass/Amorphous
Hatch Time
Edit
121 Cycles
2 feet 4 inches
15.2 pounds
Base Experience Yield
Edit
100
Leveling Rate
Edit
Medium Slow
1 Special Attack EV
Pokedex Colour
Edit
White
Base Friendship
Edit
70
Sailnoh was used by ancient people for ink. It's breath can fell Dragon-types.
Base Stats
Edit
HP 4
Attack 17
Defense 48
Special Attack 64
Special Defense 53
Speed 51
Start: Tackle, Growl
6: Absorb
10: Sludge
15: DragonBreath
21: Mega Drain
28: Sludge Bomb
31: Toxic
35: Giga Drain
40: Calm Mind
46: Overheat
53: Dream Eater
Ad blocker interference detected!
Wikia is a free-to-use site that makes money from advertising. We have a modified experience for viewers using ad blockers

Wikia is not accessible if you've made further modifications. Remove the custom ad blocker rule(s) and the page will load as expected.